Single parents need homes, too: Anna's story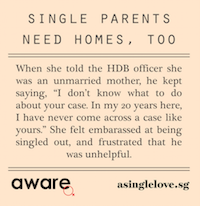 Single parents in Singapore grapple with a myriad of problems and restrictive rules when it comes to meeting a basic need – housing. Think this should change? Sign our petition urging changes to housing rules for single-parent families. Read more about our recommendations for how policies should be more inclusive of single parent families.
Below is Anna's story on her experiences with applying for housing.
---
Anna is a 36-year-old unmarried mother of one. She is currently in the process of buying a resale flat.
When Anna first called the HDB office after the flat's seller accepted the sale option, she was informed by an HDB officer that she could receive the Family Grant as long as she was single and listed her child as an occupant.
However, it was only during her first appointment at the HDB office when Anna was informed by another HDB officer that she did not actually qualify for the Family Grant. "This is simply the wrong information," the officer said of the phone call Anna had with another HDB officer.
After Anna explained that she was a single, unmarried mother, and asked if there was any grants that she qualified for, the officer was unable to provide an answer.
"I don't know what to do about your case. I don't know how to key into the system. In my 20 years here I have never come across a case like yours." The officer repeated a few times, and Anna felt embarrassed for being singled out like that and also frustrated that the officer was being very unhelpful.
She then asked if he could ask someone else, perhaps his manager, who would know how to deal with cases like hers.
"If I have to do that, you need to wait two hours for me to ask. I need to clear my other cases first." Anna thought that he was finding excuses to not help her. After he finally spoke to two managers (taking less than 15 minutes), he informed her that she did not qualify for any grants.
"Who can I appeal to then?" Anna asked, and the officer gave her his email address. "You can just write to me." He did not offer any other suggestions and Anna left feeling very unhappy.
As an unmarried mother, Anna did not qualify for all the tax reliefs that other married working mothers in Singapore received. She found this to be unfair and questioned why her marital status should make a difference.
Dealing with government agencies as an unmarried mother can be a frustrating and even stigmatising experience – as demonstrated by her experience with HDB. Anna also recounted her  "bizarre" encounter at the ICA, when she was registering the birth of her son.
"The officer asked thrice about the father's name, even though I already said that I would not include his name in my son's birth certificate." After making sure (three times), that the father's name would indeed not be included, the officer went to get her manager.
"The manager came out and told me that I had to swear that I have given birth in a single parent's capacity. I had to read this piece of paper declaring that I am a single mother and swear aloud. Right at the ICA counter!" Anna thought that this was an extremely bizarre and strange procedure and was not expecting to have to make an oath.
Anna is currently receiving emotional support from a counsellor at a Family Service Centre. She felt that there should be more support groups for single parents, and that government agencies should offer more flexibility.