Lina's story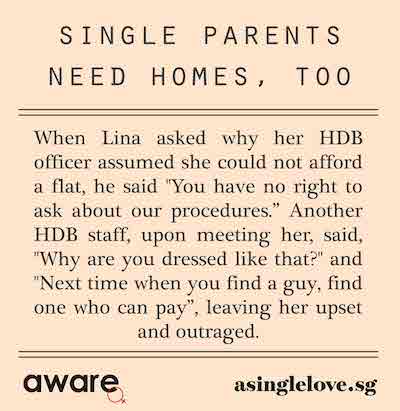 Single parents in Singapore grapple with a myriad of problems and restrictive rules when it comes to meeting a basic need – housing. Think this should change? Sign our petition urging changes to housing rules for single-parent families. Read more about our recommendations for how policies should be more inclusive of single parent families.
Below is Lina's story on her experiences with HDB when she tried applying for housing.
---
Lina* is a divorcee with four children, including a daughter who was born out of wedlock. They are currently living in a three-room resale flat. This is Lina's third home – she used her first-timer privileges on her matrimonial flat, then bought a resale flat after her divorce. This is her second resale flat purchase.
When Lina got divorced, she had no choice but to sell her matrimonial flat as there was a court order to do so. She received $10,000 in sales proceeds but had to spend on rental from the open market before she managed to buy a flat. When Lina was making her first resale flat purchase, she was told that she had to upgrade her 5-room flat to a 5-room Jumbo flat in order to get a HDB loan.
The flat then had to be sold as Lina's father fell ill and she had to go stay with him. After her father passed away, Lina bought her current three-room flat.
Lina is working part-time in order to manage caregiving and work responsibilities. She is currently working at a hawker stall, earning around $1000 a month, with no CPF contributions. She is having difficulty paying her mortgage loan (more than $500 a month) as her CPF savings is depleting rapidly.
She hopes to sell her current flat and use the proceeds to offset the outstanding charges, and to purchase a 3-room BTO flat. For her last two purchases, Lina did not receive any government subsidies.
After applying for a BTO flat, Lina went to the central office to do her flat selection. It was then when she found out that she had to first pay off her arrears before she could proceed with her selection. However, she had to go to the Branch office in Woodlands to do the payment. So on the same day, Lina went to the Branch office.
There, she encountered a hostile officer who said "you can't even pay for a few months (referring to her loan payment), how can you pay for the new flat?" Lina found this accusation to be unfair as she had not even begun to explain her situation and she asked the officer how he could be so sure that she could not afford the new flat.
"You have no right to ask about our procedures." was the reply.
Lina went to HDB another time to ask about her housing options and again, encountered a judgmental and unsympathetic officer. Upon meeting her, he asked "why you never zip up (your top)? Why are you dressed like that?" And after finding out that Lina had a child out of wedlock, he said "next time when you find a guy, find one who can pay."
Such encounters with front-line officers have left Lina feeling upset and outraged. She hoped to share her story to let other single mothers know that they are not alone.
*Pseudonym